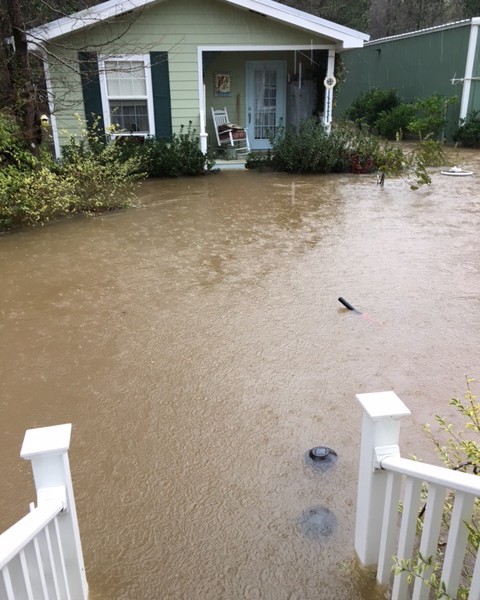 "Weird" March storms bring historic floods
In the first three weeks of March, rains caused historic levels of flooding for Texas, Louisiana and Mississippi.
At almost 54 feet, the snaky Sabine River serving as the border between Texas and Louisiana hadn't recorded waters this high in a century. Near Folsom, in the toe of Louisiana's boot, the Tchefunkte River threatened one bridge and forced widespread evacuations; the Tchefunkte took another bridge at U.S. 190. Nobody'd ever seen waters 42 feet high in the Coldwater River, near Marks, Mississippi, or if they did they didn't write it down.
In Franklinton, Louisiana, Trisha Molony went to bed one night as it was drizzling, and woke up a few hours later to a flood. "It's a good thing we had flood insurance," her husband said to her.
Molony waded through flood waters to make sure the window treatments she was making for customers were safe in her workshop. "The current of the water was incredible," she says now. (She also snapped pictures from her porch – and sent them to ISeeChange.)
Molony says now that she was "blessed" that the water didn't seep inside. But as for the early March floods brought by these heavy rains? "It was just weird," she says. "And it's still raining now!"
Well, Trisha Molony was right. We've talked on #ISeeChange before about atmospheric rivers: narrow bands of moisture carried by the jet stream over the Pacific Ocean, they act like garden hoses, usually soaking the western United States. Such atmospheric rivers also begin in the Gulf of Mexico. In the first week of March, one "Mayan Express" carried snow into Mexico, then collided with unusually warm winter conditions in the Southeast.
As much as 27 inches of rain fell on parts of the Southern United States in early March, rural Texas, Louisiana, Arkansas and Mississippi, with a little bit of Tennessee thrown in for good measure. One of the heaviest March rains in history, collapsed records and in some places, buildings. Four people died. In Louisiana, it was enough to call out the National Guard and for President Obama to declare the storm a "major disaster" triggering the release of federal funds for affected citizens and businesses.
Survivors are still counting considerable costs from an unexpected harm. In rural Mississippi, along the Sunflower, the waters rose 25 feet in 24 hours. Fewer than 10% of Mississippi flood victims had flood insurance, including the Quapaw Canoe Company; you can learn more about their situation here.
It's not that people didn't know rivers could rise; rather, they thought they understood the risk. Our friends at WWNO reported that St. Joseph Abbey, north of Covington, Louisiana, didn't have flood insurance:
"I guess we thought we wouldn't need it," says Brown. "This is the place generally known for its high ground in the area."
How people calculate their risk may be changing. Milly Vappie lives on high ground along the northshore of Lake Pontchartrain, where the Bogue Falaya and Tchefunkte rivers meet. She's noticed "more houses have been built in swampy areas and flood plains, and homes continue to be built on the ground."
Those are exactly the kind of places that flooded after Katrina. And after living in Florida, Vappie decided living in a house on high ground – itself high off the ground – would be enough to guarantee safety.
Now she may be changing her mind. "Still think I'll get flood insurance even though they say it's not required," she told ISeeChange founder, Julia Kumari Drapkin. "Next time we might not be so lucky!!"
The next time might be soon. In the last day, flooding shut down the University of Arkansas campus. The National Weather Service reported tennis ball-sized hail in Texas, where insurance reports half a billion dollars in damage just in Collin County alone.