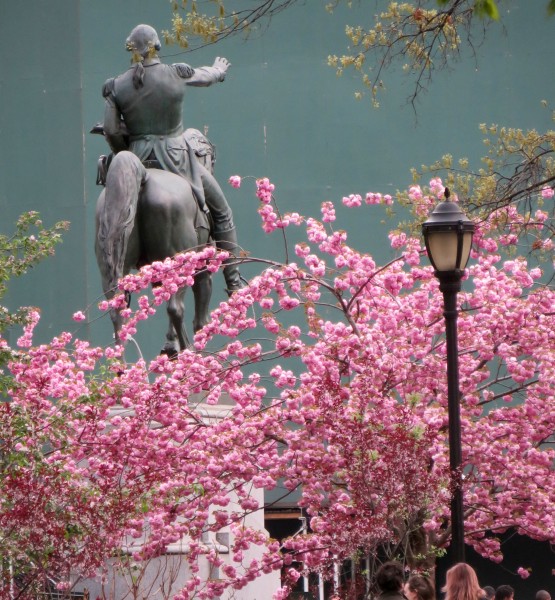 Flower blooms in December. Is this weird?
Fiery reds, blazing oranges, and gold-burning yellows are the flags of fall in our nation's capital. Pink, not so much – so a flash of it caught the eye of our observer Katie G.
Katie G. stopped and snapped a flowering crabapple tree on a walk this warm December. Washington, DC is home to around 20 different kinds of crabapples within the genus
Malus
, 
according to Casey Trees
, a nonprofit whose goal is to increase the district's tree canopy. But the crabapple trees' five-petaled blossoms – the blooms come before the trees' leaves pop out – are by all rights spring events.
So it's definitely weird to see this spring-blooming tree in flower in December.

Weird! Warm! Weather!
ISeeChange Executive Producer Julia Kumari Drapkin discussed this and other observations on NPR's On Point with other guests, including Boston University biology professor Richard Primack.
"This time of year trees should be sleeping," Primack said. "But what happens is that plants also have a way of monitoring the temperature. It's been so warm, that many trees are fooled into thinking that spring has arrived and their flower buds are opening and even some of their leaf buds are opening."
This fall has been unusually warm, not just in Washington.
A large ridge pattern over the United States kept the jet stream – an atmospheric river of air – from moving around. It also kept warm air over much of the United States. Dozens of cities, including Boston, Hartford, Connecticut, New York, Chicago, and Columbus, Ohio, experienced record highs.
The National Centers for Environmental Information, a part of the National Oceanic and Atmospheric Administration, revealed preliminary data for the first two weeks of December showing thousands of record daily high temperatures broken, and thousands more record-warm daily lows (usually, night time temperatures) around the country. That's compared to just 93 record low temperatures, and 95 record-cool daily highs.
No wonder other I See Change observers are reporting aseasonal plant and tree behavior all over.
Franco C. saw chrysanthemums blooming in Boston. Dandelions are on display in Lexington Kentucky; Detroit, Michigan; Dothan, Alabama; and Chaplin, Connecticut. Jonathan S. has crocuses popping up in Columbus, Ohio and Keith M. notes that the sassafrass trees are in "full bud" in his part of Virginia.
Biologist Primack is surprised by what he's seeing too. "I'm seeing plants like forsythia in flower, rhododendron in flower," he says. "I'm actually even seeing some plants produce new leaves, which is pretty exceptional."
A hibernation period is a crucial part of the life cycle of many spring bloomers so this kind of blooming out of season is stressful for plants and trees. How stressful is something that botanists, biologists, climatologists and others are exploring.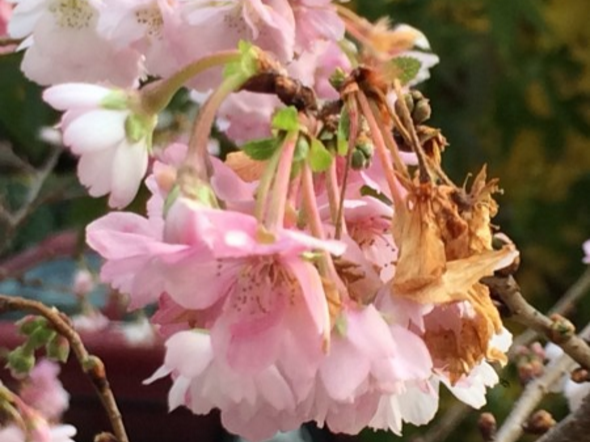 Creepin' forward
A related problem is season creep. Plants are experiencing a longer growing season as our colleagues at KVNF in Colorado reported last month. And they're blooming earlier in the spring, something Southern Californians noticed and KPCC reported on last April.
In fact, scientists have documented season creep all over the world. Milder falls and winters are a big contributor to the trend.
Early and ill-timed blooms aren't just confusing for city dwellers this holiday season.
"What happens is the flower buds that open now can't form their fruits, so next spring these plants will have fewer flowers and fewer seeds to produce their next generation," says Primark.
Sadly, as pretty as it is, a December bloom likely means our DC observer Katie G. probably won't see her crabapple tree show off as much pink next spring.
Photo via Flickr/edenpictures