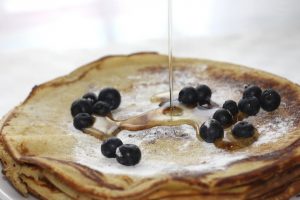 Say you're at brunch. The syrup bottle is poised over the side of pancakes you ordered "for the table." You're ready to do your best "Uncle Buck" impression. Pause for a second here and give thanks – because the production of that sweet sticky goodness is vulnerable to environmental conditions like air pollution, invasive pests, and a warming climate.
If maple syrup is a "canary in the coal mine" when it comes to climate change, what kind of song did the maple-bird sing in 2016?
An important one, to be sure. And not just for pancake lovers. Maple syrup is a half a billion dollar a year business in Canada and the United States. Like many other crops, maple syrup's fortunes rise and fall with the weather. According to crop production stats released today by the U.S. Department of Agriculture, this year was a boom: sugar houses in 13 states produced 4.2 million gallons of syrup, a record.
And this boom year started early, as #ISeeChange found out when Judy Donnelly wrote to us from Columbia, Connecticut. Back then, it had been cold at night and in the 40s and 50s during the day," conditions that spell sugaring weather after a winter's cold "recharge" period for sugar maples. "I've noticed tubing being strung to collect maple sap in neighboring towns. This doesn't usually happen until mid February," Donnelly said. She wondered what this would mean for the syrup season's end result.
In Connecticut, tubes and taps and sap that goes
Donnelly was right. This year Connecticut's sugaring season started two weeks earlier than in 2015, when the first taps went into trees on the first of February. And over the last 45 years, the day the first and sweetest syrup comes out of the first tree has moved more than a week earlier, on average, according to research from the Proctor Maple Research Center.
But producers in southern New England say increasing variability in weather patterns mean there's no such thing as "usually" anymore. "You can't plan for how much yield you're gonna get. You can't predict it," says Bill Coli, the owner of Blue Heron Farm in Charlemont, Massachusetts.
"This year was a record year."
Coli and his brothers in syrup are happy with this year's result. "Hey, you can get darn good syrup here in Massachusetts!" he laughs. But, he says, "I guess the only way I can characterize it, it was an odd season." Odd because it was early, and because it was long.
Choosing the right time to tap requires a skill somewhat between art and science. Coli, a 40-year sugaring veteran, looks for signs of spring.
"I typically smell my first skunk in February; that means they're out and about. And then I see squirrels chasing each other up the trees, which means they're carrying out their biological imperative to reproduce," he says. "You look for things like that, and sapsicles [where frozen sap hangs from broken branches], and when the sugar content has reached a point where it's economically worthwhile to tap, you tap."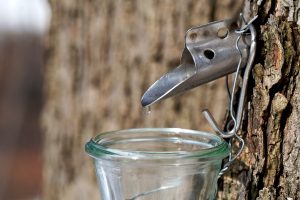 At his place, Coli started four thousand taps into his stand of sugar maples in the third week of January. March has, in the past, been Massachusetts' sugaring peak, but Coli says, "We made three times the amount of syrup in February that we've ever made, and it continued into March," Coli says.
Those who read the signs right like Coli got what producers call beautiful early runs. In Northern New England and Canada, "they got good weather through March and into April as they usually do," meaning northern states had ridiculously long seasons, judging by USDA numbers. Long compared to southern New England – Vermont's average season was 44 days long, compared to 32 days in Massachusetts. And long compared to previous years: Maine's producers reported collecting sap on 43 days, 16 more than in 2015.
A new normal, and new threats
Technology has been helping syrup producers adapt to challenging conditions. Check-valve spouts and plastic tubes connected to a vacuum suck sap out faster, before bacteria around the spout can foul it. Reverse osmosis machines pull water molecules out of sap more quickly, dramatically cutting boiling time syrup requires.
That's part of why syrup has done well in recent decades. "We're already double the yield per tree that we were able to get 20 years ago," says Dr. Abby van den Berg, a research scientist at the Proctor Maple Research Center at the University of Vermont.
But tubes and taps may move northward with trees as winters warm in the northeast. The USDA has applied global climate models to current range maps for tree and plant species, including Acer Saccharum. It predicts range shifts for the sugar maple, and new competitors – invasive trees like oak, hickory, and pine – crowding in. Pests may threaten maple trees, too.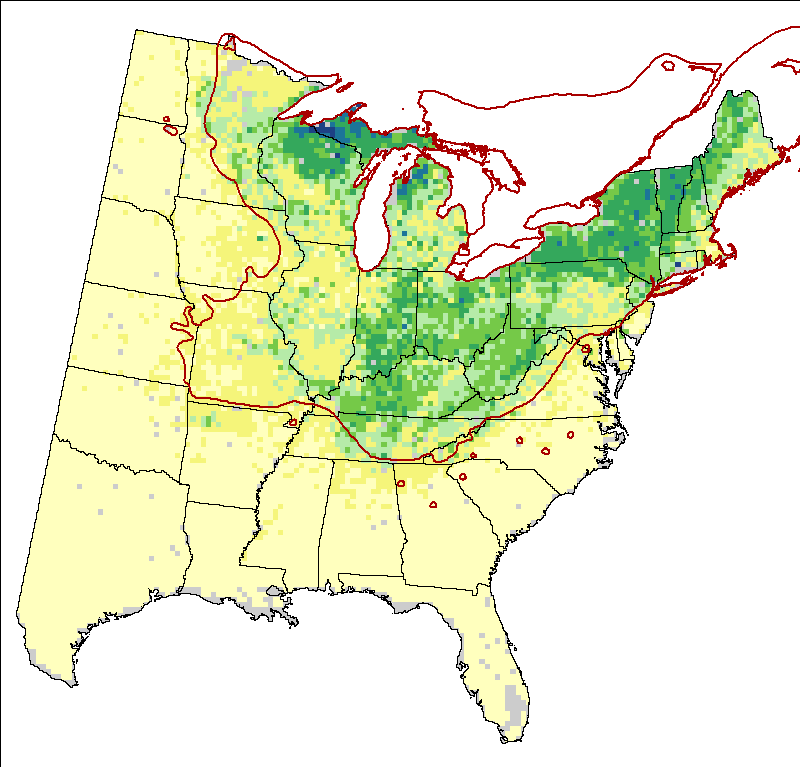 Source: USDA Climate Change Atlas/Range Maps for Acer Saccharum
Maybe you don't worry where your syrup comes from as long as you've got plenty of it. You might care, however, if your syrup starts to taste different. Emerging research on maples revolves around phenolics, chemical compounds which provide flavor (among other benefits) to syrup.Phenolic flavor precursors are influenced by altitude, soil chemistry, temperature, moisture, and sun; they give great syrup the same sense of terroir fine wines claim. One researcher is interested to see whether changing climate is changing the chemistry – and taste – of syrup. (If there's taste testing, you'll have to line up behind us.)
Some people might get frustrated by unpredictable climate and odd sugaring seasons. Not Bill Coli. "What's that saying, 95% percent of life is just showing up? That's what we do," he says, laughing. "So here we are, we're in our sugaring house, we're ready, let's see what's going."
He hasn't seen changes to sugar season that his industry can't adapt to, at least not yet. But you can bet after these recent odd years, he's got his eyes peeled for them.
(top image Susy Morris via Flickr)