From hurricanes to heat, 2020 was a year of broken climate records. In Miami, it was the hottest and third-wettest year on record. 
While South Florida escaped the worst storms, 2020 was a record-breaking hurricane season in the Atlantic with 30 named storms — 12 of which hit U.S. shores. This broke the 2005 record of 28 for the most storms in a single season. 
"Not only did 2020 beat that record, it did so quickly. With the exception of the 1st, 2nd, and 4th storms, the remaining 27 were all the earliest formation dates on record!" Brian McNoldy, Senior Research Associate at University of Miami's Rosenstiel School of Marine and Atmospheric Science, wrote in a blog post. 
This fall, ISeeChangers across Miami documented flooding from high tides and heavy rain. ISeeChange posts were shared directly with City of Miami officials so that they could use them to address immediate flooding emergencies and plan for the future. Community observations about flooding and what causes it are some of the best information that can be used by planners and engineers to improve stormwater models, inform infrastructure design, and improve resilience while centering community voices. 
During Tropical Storm Eta, the ISeeChange platform served as a flooding reporting tool for residents and a place to have conversations about weather and water infrastructure. As residents continue to use ISeeChange to document flooding and other environmental changes, they are also creating a record of climate change over time.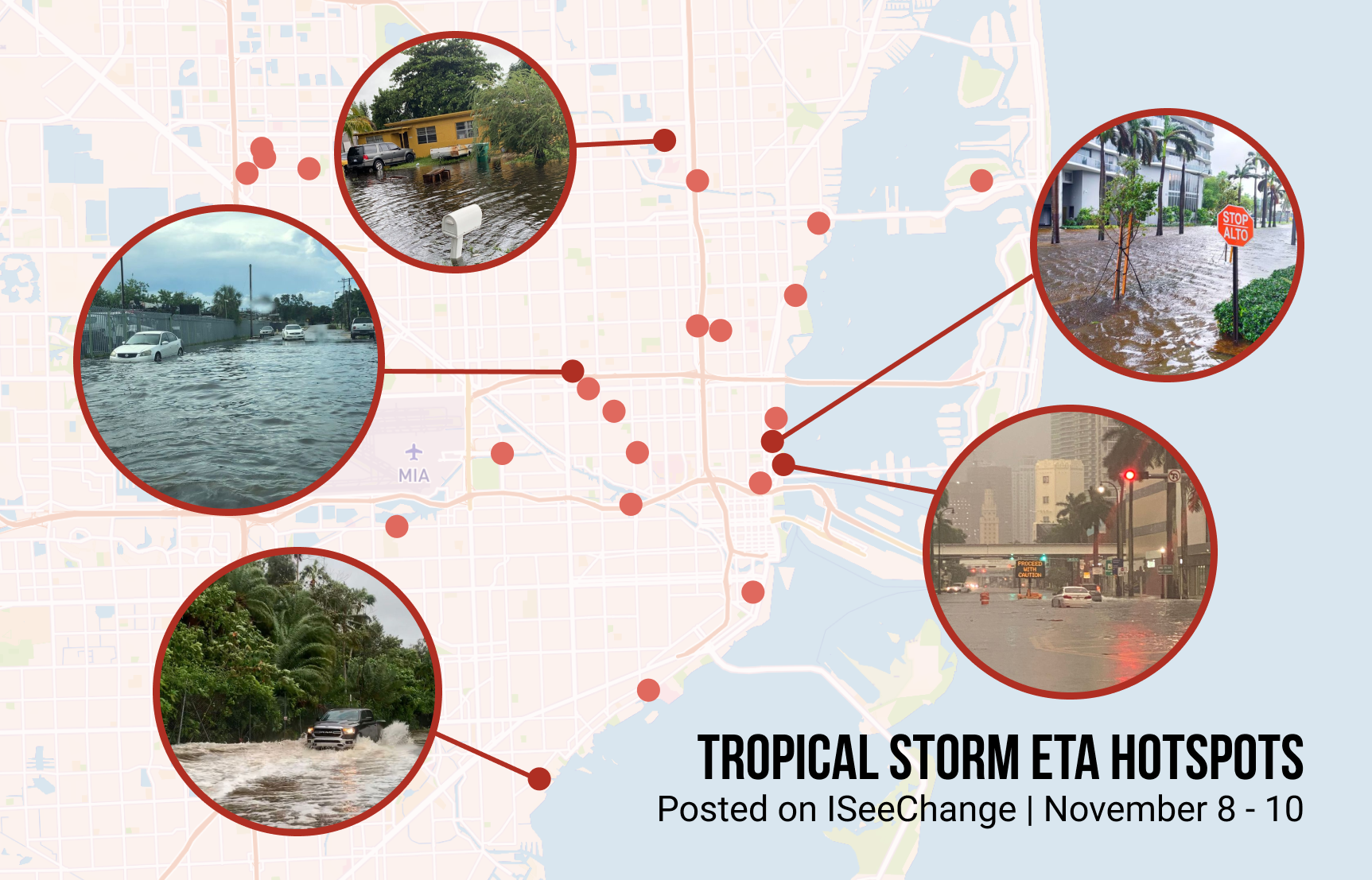 Why are we documenting flooding?
"Flooding is the number one issue in South Florida," Steve MacLaughlin, a meteorologist at NBC6, wrote in an email, "Climate change is making record breaking floods the new normal. Even without rain storms, the sea level rise makes high tides even higher and causes sunny day flooding."

According to McNoldy, so far 2020 is the third wettest year in Miami's history. The rainiest year on record, 1959, had a rainfall total only 3.5 inches higher than this year. Most of 2020's rain came during May's Memorial Day flooding and the week of Tropical Storm Eta. 
"Those two events alone account for nearly two feet, or roughly one quarter of the annual total! Aside from those, it was a pretty typical year for rainfall," Brian McNoldy wrote in an email. 
ISeeChange launched an official partnership with the City of Miami against the backdrop of this record breaking year as residents and officials alike grapple with flooding and how to make their communities more livable and adaptable. Working directly with the Department of Resilience and Public Works, ISeeChange is now helping the City with emergency operations with real-time flood reports created by Miamians while also documenting how infrastructure performs over time to assist with long-term planning and new investments. 
ISeeChange posts are mapped to the neighborhood-level on the app and website under the Storms & Flooding Miami-Dade Investigation. Residents can interact with the map, and the City of Miami uses the information to deploy pumps where needed. The more a community reports issues with flooding, the more it demonstrates the need of future capital improvement projects in the area and assess the funding necessary to solve the issue. 
Across the city, ISeeChange community members are documenting the experience of living in a place that regularly deals with the dual threat of flooding from heavy rain and sea level rise.
Sea level rise is making king tides and sunny day flooding worse
Globally, sea level rise continues to rise at a rate of about one-eighth of an inch per year, according to the National Oceanic and Atmospheric Administration (NOAA). 
"In South Florida, over the past 25 years, sea level has risen by about 5.5 inches," McNoldy wrote. "It already is happening, and has been for quite some time."
High tide last night caused the access road to the beach to be underwater and the park team had to clear the remaining debris the next morning.
While annual king tides are naturally the highest of high tides due to the influence of the moon and Gulf Stream, sea level rise has made them even higher — making them one of the most visible symptoms of climate change. This years' October and November king tides coincided with a rain storm in Miami.
Relatively smaller tidal flooding is — often referred to as "nuisance" flooding or "sunny day" flooding — have sharply increased in the last 10 years. 
"When heavy rain and king tides happen at the same time, as we saw twice this fall, we get the worst, most-widespread flooding," MacLaughlin wrote.
Warmer sea and air temperatures lead more damaging hurricanes and more intense rain
This year's severe hurricane season and heavy rainstorms were also a symptom of climate change as warmer air holds more moisture.

"With heavy rain storms becoming more frequent, flooding from rain is also becoming more frequent as the drainage system often cannot keep up with the intensity," MacLaughlin wrote.
Street flooding from last night's storm

— Pat G
Warmer air and ocean sea surface temperatures also create the perfect conditions for hurricanes to get wetter and more intense, according to NASA.
Because of how connected the weather systems on the planet are, symptoms of a warming Arctic are even being felt in the tropics. Climate change is warming the poles, so the temperature difference between the poles and the equator is not as pronounced. This weakens the jetstream which is driven by the temperature difference between the Arctic and equator. This may be making storms slower and more likely to stall.
A 2019 study by researchers at Columbia University and NOAA found that climate change may also lead to less wind shear. Wind shear is when wind changes speed or direction over small distances and it can weaken tropical storms. NOAA data shows that since the 1980s, vertical wind shear has become increasingly weaker in areas that are farther away from the equator, setting them up for stronger hurricanes.
"Tropical cyclones have slowed down, and that means greater and faster rainfall accumulations. But there are other factors that serve to enhance the risk of flooding. In South Florida, especially, sea level rise often prevents rain runoff from draining quickly. The water table is higher, too, because of the pressure of the rising ocean," John Morales, chief meteorologist and atmospheric scientist at NBC 6, wrote in an email. 
On November 9, residents across South Florida, woke up to flooded roads and overflowing canals due to tropical storm Eta. The heaviest swath of rain hit north Miami-Dade and south Broward. According to the National Weather Service's map, some areas got more than 18 inches of rain. Parts of Miami Gardens and Miramar got 15 inches and Brickell Avenue measured 14 inches of rain in depth, posted on ISeeChange app under the investigation: Storms and Flooding Miami-Dade.
How can residents help themselves and their community be more resilient?
As Miami prepares for a future with more flooding from intense rain, stronger storms, and higher tides, residents can help by sharing their lived-experience with climate change. Gathering data like photos of flooding and stories of how flooding affects daily life helps the city plan infrastructure and resilience projects. 
"One person alone cannot stop our flooding and pollution issues," Christopher Bennett, deputy resilience officer at the City of Miami wrote in an email. "Working together, however, we can and will be successful in making Miami more resilient for years to come." 
According to Melissa Hew, the resilience program manager at the City of Miami, the City is working to identify infrastructure improvements to, "reduce the frequency, severity, duration and impact of flooding."
Some strategies Bennett and Hew suggested for residents are:
Waterfront property owners repairing, replacing or raising their seawalls

Removing excessive paved surfaces to improve the land's ability to absorb rainfall

Building with permeable surfaces wherever possible

Avoiding driving and parking on landscaped swales used for drainage as compact land doesn't drain well. 

Planting native vegetation to improve drainage
Tropical storm + high tide gives us this. This happens once every two months during rainy season.
Keep documenting change even outside of flood season!
At ISeeChange, we believe your neighbor is often your first responder. Residents in communities across Miami Dade have the ability to contribute to a roadmap for building a stronger, more prepared community by reporting on ISeeChange. With the full support of the community, we can all take the actions and investments needed to address environmental and infrastructural issues. 
You can post about past flooding any time. The City of Miami is working with ISeeChange to collect observations of flooding across the city. If you have photos and stories of flooding from tropical storm Eta or from king tides, post them on ISeeChange. Your observations will help identify and address flooding issues.
You can also post about other environmental changes and climate change symptoms that you're noticing like heat waves and water quality issues.
Polluted water in our beautiful Biscayne Bay. Nutrient leaching causing alega blooms, dead fish in sight with sargassum decomposing causing further eutrophication, oxygen depletion.
We need nutrient runoff regulation. We need to fix the sewage leaks ASAP. We need to demand real action from our elected leaders!