Wait, what? That Massachusetts? The one in traditionally green New England? Yep. No mistake. Thousands of miles from the well-publicized drought and fire-ravaged west, New England is struggling with serious dryness as well.
In the Connecticut River Valley of Massachusetts, our observer Ethan Markham grows garden veggies, salad mix, and even ginger and turmeric. He says this summer it's been dry, and he sent a picture from Amherst to prove it. "Wet fields are needing irrigation where longtime farmers assumed they never would, and dry fields are turning to dust."
North and east of Ethan, in Westminster, Massachusetts, Karen Sargent took part in a recent #CoCoRahs Field Photo Weekend (just like we asked – Thanks, Karen!). She took pictures facing to the north, south, east, and west in the town square. And what she captured was a lot of brown.
#CoCoRHSJuly16, taken at the Westminster town common, at 3pm.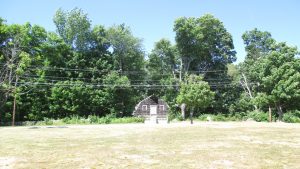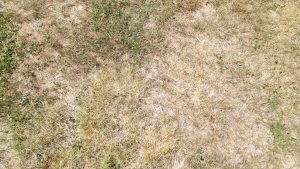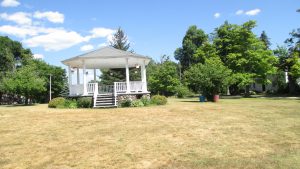 Our observers are right on, and they're not alone: federal officials say more than half of Massachusetts is in moderate to severe drought. The Massachusetts Department of Conservation Resources reports precipitation, streamflows, groundwater, and reservoir levels were all below normal in June. As a result central and northeast parts of the state are under drought watch. And Southeast Massachusetts and t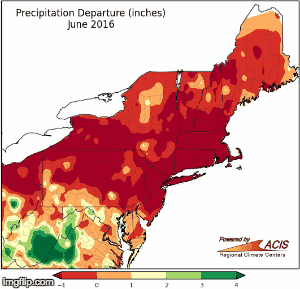 he Connecticut River Valley are under a drought advisory.
Towns in New Hampshire, Massachusetts and Connecticut have banned outdoor watering, according to the most recent national drought update. Sudbury, Massachusetts, just a tad more than 20 miles due west of Boston, is nearly 10 inches down from normal rainfall over the past 12 months.
Severe drought's unusual in the Northeast, but it shares the same hazards as it does in the west "If these very dry conditions continue through the summer months, the threat of wildfires will become even greater," said Massachusetts Emergency Management Agency (MEMA) Director Kurt Schwartz, in a statement.
So, where'd this New England drought come from, and where's it going?
A mild winter contributed to unusually dry conditions all over New England. Despite a big January blizzard, Massachusetts hasn't seen much precipitation this year.
Those mild temperatures are worth paying attention to. Winter is warming faster in Massachusetts than any other season. In Amherst, winter temperature averages have risen more than 4 degrees since 1895, according to the University of New Hampshire. And the state's own research suggests a further rise of anywhere from a 2 to 10 degree by the end of this century.
Weirdly, a cool run of late spring/early summer weather may have helped stave off worse drought conditions, federal officials say. (By cool we mean normal to below-normal temperatures, bringing to an end 11 months of record-setting heat.)
The last time Massachusetts saw severe and extreme drought was the winter of 2001-2002. Drought at those levels is infrequent – the worst on record was back in the mid sixties, a 28-month-long dry spell.
That drought and other previous droughts in New England have been associated with the negative or strong phase of the North Atlantic Oscillation (NAO) – think of it like the polar jet stream. (The NAO might sound familiar to readers of this site because of mosquitoes.) As we've said before, while this phenomenon isn't directly attributable to a changing climate, the strength and variability of the NAO are intriquing to scientists, who are examining the influence of a warming climate on them.
So while it's not possible to say that climate change caused the drought conditions our observers are seeing, it's likely that it is making signs of drought in Massachusetts and elsewhere more obvious.
Climate change is already raising the risk of extreme heat days in New England. And seasonal shifts could increase evaporation and speed up snow melt, worsening summer drought.
Observing landscape is part of phenology – the scientific study of seasonal change. If you're in New England this summer, here's one more way you can see and report drought in the landscape. Keep an eye on the trees. Dry-soil creates a hospitable environment for gypsy moth caterpillars, now at work pillaging trees. (Local sources say you can listen for the crunch of their eating!) And while drought presents challenges to farmers in the near term, this fall New England's hydrologic status likely will be spotted in trees – and, by extension, in the level of tourism. Moderate heat and drought conditions may lead to a later pop of autumn color in the famed New England foliage – or it may show up earlier. Keep an eye out with us!